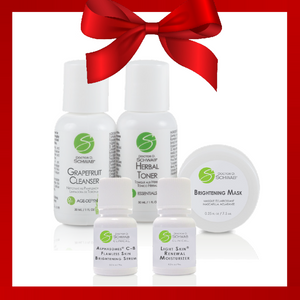 Improve clarity and brighten the skin for a more youthful, even appearance of age spots and pigmentation safely and naturally with our Brightening Collection. Includes:
Grapefruit Cleanser (1 fl. oz.)
Herbal Toner (1 fl. oz.)
Alphasomes® C-8 Skin Brightening Serum (0.3 fl. oz.)

Light Skin® Renewal Moisturizer

 (0.25 fl. oz.)
Brightening Mask (0.25 fl. oz.)

BONUS Facial Cleansing Brush!
Packaged in a festive zippered travel bag.