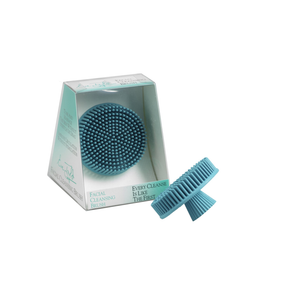 Description
: This soft, pliable brush is the perfect partner for all Eve Taylor cleansers to ensure a thorough cleanse. Made from 100% sustainable rubber this long lasting brush is gentle enough for a skin prone to sensitivity.
Skin type/condition
: All skin types and conditions.
Benefits
: Use in light  circular motions to gently increase circulation to aid cellular nourishment.  Glides smoothly across the skin.
Enables a more effective cleansiing action than using fingers alone.
Key Ingredients
: Made from 100% rubber.
How to use
: After cleansing skin with 
Clear Cleanse
 (pre-cleanser), smooth a thin layer of creamy cleanser over the face and neck. If using foaming cleanser foam in hands then apply to face. Wet 
Facial Cleansing Brush
 and continue with light, upward rotating movements. Rinse face and brush with tepid water. Leave brush to dry on its side.